It is PhotoArt Friday again, and I've been saving today's image for the occasion. As with all my photos this week, this one was also taken while on retreat. I haven't picked up my camera all week! Thanks to
Linda Willets
for identifying the flower as a Cosmos for me. I jazzed it up and used Bonnie's "Soft Swirls" texture and added the subtle stripes using the gradient tool.
It seems I cannot resist joining up with new challenges and linky parties.
(By the way, my autocorrect always wants to change that word to kinky parties...one day I'm not going to catch it and who knows what kind of traffic that will drive over here)
.
My spreadsheet is not getting the job done, so I've started creating html page templates with footers for each day of the week so I can remember which ones I want to link up with and don't have to go hunting codes and badges each week. I think this will make blogging life easier. I am going to have to limit my number of challenges though. There's only so many hours in the day, you know?
With that said, I'm unable to help myself and I'm joining up with three more: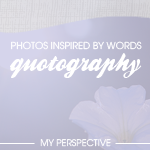 Quotography:
I love good quotes and sometimes combine them with my photographs. This will be a great incentive to do more of this. Today's featured image was also submitted to this challenge. This is actually a Wednesday challenge, so I submitted it a few days ago but was holding it for my blog until today.
30 Days of Thanks
is a November challenge from Deborah Tisch and I intend to finish off each post in November with statement of what I'm grateful for that day.
Today's image seemed to fit in nicely with that theme as well, so this seemed as good a time as any to announce my intention. Great idea Deborah!
Shoot, Edit and Submit
is a weekly photography challenge that I'm also going to make the effort to join.
This week, I'm submitting the photograph below taken in Abbo's Alley of the Gazebo in the Children's Garden. I just loved the dappled afternoon sunlight.
Hope everyone has a wonderful Friday and a great weekend!
Friday Linkups
---