I made it through yesterday pretty well, all things considered. These lovely flowers from my dad came in the afternoon and were so sweet I had to share. Even though it looks like the roses on the card were a part of the design, they are actually the entire bouquet that I photographed and layered on top of the image in multiply and soft blend modes in
Photoshop
. The somewhat vintage effect was acheived using
Topaz Labs
BW effects plugin.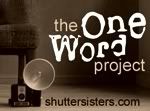 Another lovely surprise was in store as I checked my
flickr page
and learned my photo of my daughter-in-law leaping into my son's arms last week was the daily
one word project feature over at Shutter Sisters
for Valentine's day. This was super exciting for me.
It was also ironic considering that I first discovered Shutter Sisters on the long drive back home from seeing him off, exploring the whole website over the 13 hour drive home (while Katie drove, of course!) I immediately bought their book
Expressive Photography
as soon as I got home. One blog led to another blog and then another, and here I am with my own and a new community of friends and creative cohorts who inspire me daily. It seems so appropriate that my first time being featured on the sisters' site was the happy resolution to the situation that lead me to them in the first place.
No linky linky for me today. I'm just a tad too busy and got some much needed catch up sleep last night. Until later, hope everyone has a wonderful Wednesday.