My dogwoods are blooming now and I mentioned the other day that I was going to try to capture them before they leaf out.
I just love dogwoods,and I'd love to plant a few more in my yard.
I pretty much let my container plants sit on the deck as they were over the winter, and was suprised when my
hybrid verbena
(which is supposed to be an annual) started growing and blooming.
Even my potted mums, which were in flimsy plastic containers came back. I need to find a spot for them in the ground so I can enjoy them this fall.
My oregano which was pot bound in a too small pot started coming out and I repotted it in a larger container and its taking off.
Maybe I inherited a bit of my dad's green thumb after all. Right now, he doesn't have much of a green thumb. He's got blue fingers after getting eight of them smashed in the garage door last Saturday. I'd show you the picture, but its really awful looking. Let's just think of pretty flowers instead.
For the Color Me Weekly challenge, I used the dark pink dogwood.
Today's Linkups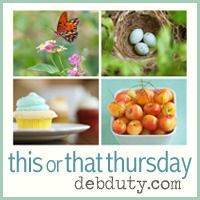 Try NEW Photoshop CS6 Beta before the official release!