Today's
Quotography
theme is "water," and I captured this sweet little girl playing in the courtyard fountain of the Nashville Public library while my memoir writing class was on break.
Since I needed to catch some "urban" for my
Two Takes
challenge (which I'm eventually going to catch up with) I brought my camera with me downtown. I'll be headed back downtown again on Saturday for my journaling workshop and sticking around for the
First Saturday Art Crawl
, so I should have plenty of opportunity to capture urban and practice street photography.
As the name suggests, this event happens the first Saturday of the month and I've been wanting to go since I first heard about it. This first time; however, I'll there specifically to promote a special project I'm working on with a friend from my photography group. I'm going to save that exciting news for later when things are a bit further down the road.
Speaking of holding out, I'm going put off another week sharing the
bird I caught Saturday before last
. Since the theme this week is water, I'm going with this little guy captured across the street from the library.
And since we have a water thing going on here today, I think I'll link up with
Watery Wednesday
, too.
Today's Linkups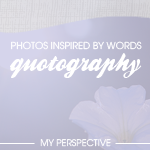 Try NEW Photoshop CS6 Beta before the official release!