The theme for April's In the Picture Self Portrait challenge is "
shake it out
" As it seems for so many people I know, including myself, the Urban Muser has had a tough year and is ready to get beyond it. So, with this theme she is encouraging us to get moving, shake it out, and purge the bad, sad, negative, feelings.
I haven't felt particularly well today, and part of it may just be sheer emotional exhaustion from my ordeal yesterday and the fact that I have to start the week off dealing with parking garages, tow trucks, dealerships and dollars spent. My work week is going to be full enough as it is, and instead of feeling rested and ready to take on the challenge of a new week, I feel way behind the eight ball already.
So much for purging negativity, eh?
So, this month shaking it out will be a progression for me and perhaps by the end of this month you will find images of me shaking things out, jumping, leaping or dancing.
Right now, I'm not quite ready to start shaking so I'll start with an image that demonstrates the healing ritual that has become part of my nightly routine since the weather turned mild enough and is my version of shaking it out.
I call it simply "deck time." Right before I'm ready to turn in for the night, I pour a glass of wine, light the fire pot and cue up my Rhapsody player to the "Sultry Songstress" playlist I'm compiling (currently featuring Natalie Merchant, Norah Jones, Diana Krall, Rumer, Mae Moore, and Angel Snow) and contemplate my navel under the stars.
When I moved into this house nearly 14 years ago, the soon to be former owner and I were standing on the deck chatting when he became quiet and his expression pensive. He muttered some comment about spending many nights out there, and based on what I know about his situation I have a feeling a great deal of healing took place for him in that spot.
I totally get how hard it was for him leave it.
In fourteen years, I've experienced the full spectrum of human emotions on that deck - joy, anger, fear, grief... you name it. Now, I' heal and grieve the loss of love and face a fresh blank canvas of a new future different from what I'd envisioned. As busy as I try to keep myself, which works to keep the sadness at bay, I need time to let myself feel the feelings if only for a little while. And, this is where it comes out.
Every spring, when the nights are gentle as a whisper and mostly insect free, I'm drawn there. Loves have come and gone up those steps, but the deck remains. It supports and surrounds me, holds me close to the sky, encourages me to look up and out while staying grounded, to remember and to dream.
Do you know what time it is now?
Deck time.
Today's Linkups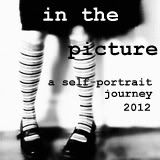 Try NEW Photoshop CS6 Beta before the official release!