Quotography has moved back to its original home at
My Perspective
blog and the theme this week is our favorite picture from March. I've been waiting for the right opportunity to share this Red Bellied Woodpecker I captured in my neighbor's yard with
World Bird Wednesday
, so here it is!
This little beauty played hide and seek with me for several minutes before I got some clear shots. If you are like me, you might be wondering why a
Red Bellied Woodpecker
has a white belly, but apparently the red is just a tinge and sometimes is hidden well.
When I found this Coleman Cox quote about woodpeckers, I thought it would be fun to use the
Big Huge Labs "Motivator"
toy to incorporate the quote for the Quotography challenge.
I would have done well to heed the wisdom of the woodpecker during my ordeal on
Saturday
.
Do you see where this is going?
Yes, I found my blankety-blank keys. (I confess, those weren't
exactly
the words I used)
Where were they? Why... they were in my purse.
I swear, I dumped the complete contents of my purse out no less than three times and the keys were not there. I checked every pocket, nook and cranny and possible hiding place and nada, niente, nuttin'. I guess I should have kept pecking at it.
Or perhaps I should have just non-chalantly reached inside my purse to grab my lipstick and my hand would have gravitated to them naturally. Yes, this is how I found them. Accidentally.
Boy, is my face as red as that woodpecker's head!
Today's Linkups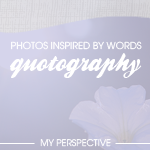 ---