It turns out my son had the day off, which is unusual for him, so plans got a bit rearranged and we've had a nice day together. He got up and went to church with me and we had dinner afterwards. We've been chatting all afternoon and taking pictures, and he was willing to pose for my weekly self portrait with me. Of course, we had to get grand-dog Crockett in the pic.
This was a pleasant and unexpected suprise, and so was seeing my son clean shaven this morning after getting used to him with that massive beard he had. Impressive as it was, he's just too handsome to cover up that face, don't you think?
I almost forgot...he left this for me the other day as well. He knows how to make my day :)
Today's Linkups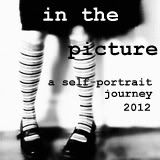 Try NEW Photoshop CS6 Beta before the official release!