Someone actually noticed I finally missed a day of blogging after seven months of not missing a day. It wasn't intentional, but my day yesterday was so full that there just wasn't a minute to spare. I never intended to be obsessive compulsive about blogging daily, but it just happened to work out that way, and the longer my streak went the more important it seemed that I get something out every day. I'm sort of relieved that I finally missed.
My sweet son Andrew got up early to help me clean house, which was quite a job and it feels so great to have my life back in some semblance of order. February and March were just so chaotic, that things really got ahead of us. Now that he'll be moving home full time when his lease is up next month, we both agreed that we needed some sort of system in place.
After we completed our work, he left for his job and I headed out for my hair appointment. But, I could not find my purse anywhere! Having just cleaned the house from top to bottom, I knew that that it wasn't here. After searching my car, I concluded that I must have left it at work. Fortunately a co-worker that lived nearby was home and I was able to borrow his electronic key to get in the office building, but its a 45 minutes away at best! I called my hairdresser and she said it was ok to be late as I was her last appt. of the day, and was nearly an hour late.
The whole time I was driving to my office I was praying that my purse would be there and not somehwere stupid like my living room couch. I'm a little paranoid after my lost but not really lost car key ordeal last week. But, it was there and the day was saved.
Sometimes I really worry about how scatter brained I've been lately. There are those in my life who might argue that this is really nothing new. But, I do think its more than usual lately.
Or maybe its something about how blonde my hair is getting! This was my second appointment since making the grow out the gray decision, and I think Jules is doing a great job making the transition less jarring. Who knows, I may keep putting in highlights and become a platinum blonde.
After our appointment, I barely made it to dinner I'd scheduled with a friend and then we joined my cousin and her boyfriend at a local watering hole to see our friends
The Tribe
play. My son and his girlfriend joined the party and it was well after midnight before I got home. These late nights are for the young folks, I'll tell you that. But, I did have a good time.
Somehow I managed to stay awake in church this morning, and took a nice long nap after lunch. Sunday afternoon naps are the best, aren't they?
After my nap, I finally put together the
studio soft boxes
These boxes I bought are really great and put out good light. I decided to use them for this week's self portrait.
For this image, I also used Kim Klassen's "Oh My" texture that she released this weekend to her mailing list, and an affirmation brush she gave those of us who are participating in her Beyond Layers class. We are talking about self portraits over at the great beyond and it is amazing how many photographers are uncomfortable being in front of the lense. This has been a challenge for me as well.
I think I take a relatively decent picture all things considered - some say even better than I look in person. But, it seems just a little narcissistic to me. At least that's what I'm afraid people will think. But, a wonderful part about growing older is that you care less and less what people think. As the gray grows out, I'm feeling a little uncertainty about it and many other things that come along with the passing of youth.
But, with that, I also am valuing imperfect beauty and feel a certain freedom that comes with just being ok with what is. You don't always have to like everything about yourself all the time, but striving to achieve some unattainable standard is beyond insane at any age. I think I'm close (maybe not totally there) to being done with that.
Thank God.
Today's Linkups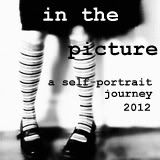 ---