First a quick note of thanks to everyone who participated in the very first Flower Art Friday. I hope to see everyone back next week and see some new faces as well. Whether or not you participated, please take time to vote for your favorite work at the bottom of the gallery here. The top three will be featured in my next FAF link up post.

Today is the final day of Ali Edward's
Week in the Life Project
. I've not written much about it. Rather I decided to continue with my blogging as usual and just take pictures as I go along and upload them to my flickr set
here
. At this writing, I still have to upload yesterday and today's images.
Unrelated to this project, I intentionally kept my schedule open this week because I simply need to recharge. Yesterday was the first lazy Saturday in recent memory with nowhere to go, and nowhere to be. I had to cancel plans that I really wanted to keep to make it happen, but some things have to give. I slept until almost 9:00 a.m., which is unheard of for me, and napped most of the afternoon. The only appointment I had was for a massage, which I'm trying to do at least once a month as a part of my self-care regimine.
The thing about letting go and just relaxing is that when you give your body an inch it takes a mile. I slept late this morning as well and don't feel well enough to even go to church. It is not uncommon to feel a bit toxic after a massage - especially when you have lots of pent up stress, so I'm giving myself permission to rest some more, drink lots of fluids and take my time in making the myriad of preparations for what promises to be a super busy week ahead.
I love the concept of creating time capsules such as the Week in the Life project even though so many of my pictures from the week are redundant: waking, sleeping, eating, walking, driving. But, this is my life right now. Lots of time commuting, eating at my desk, working late, and a schedule crammed so tight that I have difficulty being on time. The process has also prompted a mindfulness of the future, and speculating on what life will look like this time next year and beyond.
Along those lines, on the recommendation of one of my journaling group cohorts, I ordered a
10 + year journal
. Even though we are well into 2012, the journal is a ten year journal, so I'm really not that far behind. I do intend to use my blog and morning pages journals to backfill as I can.
There's something quite humbling and even disconcerting about looking at a page filled with spots for the same day 10 years in a row. The space is limited so entries must hit the highlights of the day's most memorable moment. What comedies and tragedies, triumphs and defeats will occur in the next ten years that will fill those pages God only knows. The only thing I know for sure is that there is certain to be a mix of good and bad because that is the way of life.
This has been an emotional roller coaster of a week full of the "stuff of life" that threatened my planned for "low stress" week right off the bat at 5:25 Monday morning. It was if God were reminding me of the fuility of resisting stress, but learning to live with it and move through it. New worries about family members' health and well being emerged this week, I learned that I was going to have to let go two of my team members by Friday, and other issues that arose that I won't discuss except to say that the net result of the week's events was a feeling of being quite alone in the way that only a single person can understand during times of trial.
During times such as these, I've often come back to this poem which has given me much comfort over the years - especially in the wake of romantic heartbreak.

Comes the Dawn
By Veronica Shofstall

After a while you learn the subtle difference
Between holding a hand and chaining a soul,
And you learn that love doesn't mean leaning
And company doesn't mean security,
And you begin to learn that kisses aren't contracts
And presents aren't promises,
And you begin to accept your defeats
With your head up and your eyes open
With the grace of a woman, not the grief of a child,
And you learn to build all your roads on today,
Because tomorrow's ground is too uncertain for plans,
And futures have a way of falling down in mid-flight.
After a while you learn
That even sunshine burns if you get too much.
So you plant your own garden and decorate your own soul,
Instead of waiting for someone to bring you flowers.
And you learn that you really can endure...
That you really are strong,
And you really do have worth.
And you learn and learn...
With every goodbye you learn.
And so, I went to Lowes and bought some flowers for my front porch and when I arrived home I was surprised to find a lovely bouquet of purple irises and yellow roses sitting on my deck adorned with droplets from a light afternoon rain. Along with it, a lovely message of support which included the words I most needed to hear in the moment, "you are not alone."
I focused on my own garden
AND
someone brought me flowers. How cool is that?
It is true, I am not alone. I have family and friends who love me, and I'm a part of a virtual community that has shown just how supportive they can be. Yesterday, I noticed many blogs come across my blog roll with the title "
Flowers for Leontien
". I do not know this young woman named Leontien who I've learned is battling cancer, but it is clear she has the affections, prayers and support of many world wide. With prayers for her comfort and healing, I share one of my purple irises with her today in gratitude for the reminder that our troubles are relative. The inner strength and positivity I witnessed as I perused through
her blog
this weekend encouraged me greatly.
As the saying goes, it could be worse and I am acutely aware of the smallness of my problems relative to others such as Leontien. This week I invited one of my earliest flickr friends who creates spectacular floral photo art to join my linkup only to learn that she very recently lost her husband of 43 years and is still reeling from the shock of it. I spoke on the phone to a friend who lost her son right before Christmas last year and reached out to my former boyfriend in remembrance of his son who would have been 27 years old this week if not for losing his life in Iraq. Two of my employees had their weekends ruined with the news that they are now unemployed through no fault of their own in a time when prospects for finding new employment aren't so great.
This brings to mind an excerpt from Naomi Shihab Nye's poem entitled "Kindness" that I've shared here before:
Before you know kindness as the deepest thing inside,
you must know sorrow as the other deepest thing.
You must wake up with sorrow.
You must speak to it till your voice
catches the thread of all sorrows
and you see the size of the cloth.
It is this cloth that I can wrap around me when a pair of arms to hold me in my sorrows cannot be found. It is a cloth which shields me against bitterness and cynicsm that threatens to creep in when my ego tells me I deserve more than what I'm getting. It is a cloth which warms my spirit with compassion and empathy towards my enemies or those who may have unintentionally caused me pain, understanding that we each have our sorrows to bear and are doing the best we can in the moment. It reminds me that we all have the love of a benevolent God who wants for our highest good. As Nye says, when wrapped in this cloth, you realize that "
it is only kindness that makes sense anymore."
It is a cloth that I can wrap around me for instant connection and companionship (if only metaphorically) when I feel alone in my trials.
This month's One Little Word project involves writing a letter to our future selves. I have not done this yet, but I plan to take some time to do that this afternoon. I have not decided whether or not I will share it here.
What will fill the pages of today's date in my ten year plus journal one year from now? Or, two? Or five? Only God knows that for sure. I hope there will be entries regarding grandbabies, and that my family will remain healthy and happy through this time. Although I can't seem to envision it at the moment, I hope to find love and possibly marriage (or the plans for it) somewhere in those pages. It would be wonderful to be doing more and more creative work, whether that be vocationally or avocationally. Getting my creative work published, or sold would also be intensely satisfying. Physically and emotionally I want to feel strong, whole, and healthy.
So, I have some goals. But plans? No. I think I'll just leave that up to God (as if I had any choice). He's got this.
"For I know the plans I have for you," declares the LORD, "plans to prosper you and not to harm you, plans to give you hope and a future. Jeremiah, 29:11.
And so, I'll finish by linking up to Urban Muser's "In the Picture" self portrait challenge with this shot of my freshly painted toes, standing still and symobolically waiting for some clues as to the right next step for
"I know, O LORD, that a man's life is not his own; it is not for man to direct his steps
" Jeremiah 10:23. Even the fact that I could afford to sit in a nail shoppe and get my toes done is a reminder that most of my problems are what a facebook friend called "first world" problems this week.
I am blessed, I have much to be grateful for, and indeed I am not alone.
Today's Linkups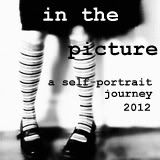 ---