Today's Mosaic is a table I set for a little lunch I threw together for my photography friend Suzan who came over for some help processing photos.
I made a pretty simple steak fajita salad with romain, pico de gallo, blackbeans, tomatoes, bell peppers, avocado and tortilla strips. I stuffed mini bellpeppers with a chorizo and cheese mix and served mixed berries and whipped cream (sugar free of course). Sorry, I have no pictures of the food, although the berries were quite photogenic. Maybe next time.
After lunch we and we had lots of fun playing with
Photoshop
,
RadLab
and
Topaz Labs
. It is so much fun watching people discover the power of these tools for the first time.
The ceramic bowl was purchased at
The Arts Co-op
in Martin, Tennessee when I picked up my neice, Jessica for our
Reelfoot Lake excursion
.
Happenings
Saturday I finished up the last in a series of writing workshops hosted by
Ellen Rust
that has been going on every other week since the end of March. It was a free program hosted at the
Nashville Public Library
that I found out about through my writers group. At least I thought we were wrapping up. The concensus of the group was that we had enjoyed writing together so much that we didn't want to stop, so we are going to continue meeting monthly. I'm beyond excited about this.
Currently Reading
Speaking of writing, I'm about 1/3 of the way through
Bird by Bird
by Anne Lamotte. I just love her writing and humor. One of my writing group friends said
Anne's facebook page
also was quite entertaining to read, so I went over and "liked" her there.
Last night I downloaded
Going Solo
by Kate Bolick to my Kindle after seeing an interesting segment on
CBS Sunday Morning
regarding living alone.
It occurred to me that even though I've been divorced nearly 20 years, I've never really lived alone. I met my former boyfriend right before my youngest left the nest, and we spent so much time together either at his place or mine that I never really
felt
my empty nest. There were also periods during that time when my oldest son spent periods living at home - like now.
I'm certain there will come a time when I will be truly living alone and I am not sure what to expect. Don't get me wrong, I love (LOVE) periods of solitude and being home alone and barring that I'll run off to the mountains for a few days each quarter just to be alone. But, there is a different mindset when you know that no one is coming back or is waiting for you. So, as is my habit, I tend to buy a book as a part of confronting any issue I face. This is a start.
Meanwhile Back on the Internet
I was reminded in my writing group of two interesting blogs that I'd forgotten about that are worth checking out:
Patty Digh's
37 days
and
3 x 3 x 365
where Patty collaborates photographically with two friends who live in different areas of the country. If you've been around the blogosphere awhile, you've probably heard of them. If not, go check them out.
Creative Spiritual Women
lead me to a web site and wonderful poem by
poem
by Julia who blogs at
The Painted Path
which lead me to this sweet little video put together by Julia and her friend Alia.
Looking Ahead
The week ahead will be extra full as my remote office staff is coming in for a week of working with the team. We do this semi-regularly and it is always an intense, productive, fun, and exhausting week. So, I'll need to plan for a light and restful weekend next weekend - especially because I'm going to a workflow seminar with
Sandy Puc and Jack Davis
on Friday night. I'm very excited about this!
That's about it for now. Don't forget to vote for your favorite piece of floral art from last week's
Flower Art Friday
. Each week our number grows and I'm astounded by the talent that has made its way over to this little space. Thanks so much for your enthusiasm and kind comments. :)
Today's Linkups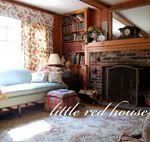 ---