Before you read on, take a moment to remember those who died in service to our country. This image was posted today on facebook by the father of Philip P. Clark - a young man who served with my son in his first Afghanistan deployment. All of these fine young men were personal friends of my son and served beside him. I am thinking of their families and their brothers today, and hope you will, too.
It's not that I'm so smart, it's just that I stay with problems longer. ~Albert Einstein
This Monday's Mosaic is also my monthly mosaic contribution for Magnetised by Life's challenge. The theme for May is intelligence and loyalty and the color is green.
Mint growing wild at the corner of my house.
Nehi Peach soda taken at Puckett's Grocery in Lieper's Fork, TN
Sun dappled path along my morning walking route
Bucolic scene taken in Lieper's Fork, TN
Cucumber Canape's prepared for Mother's day tea
Oregano growing in a pot on my deck
Collard Greens & Green Beans served at Puckett's Grocery in Lieper's Fork, TN
Potted plant display on the front porch of a Lieper's Fork Antique Shop
Sun soaked leaf captured on my morning walk
This past week was as hectic and intense as I expected. But, I survived it and gave myself plenty of time for R & R this weekend. It amazes me how quickly the household can fall apart after I had everything all nice and clean for my guest
last week
, so it has been good to have some catch up time.
Many of the pictures in this month's mosiac were taken in historic Leiper's Fork, Tennessee. I always like to take my team out for some local flavor when they are in town, preferably involving live music. So we ventured out to the country Thursday evening for
Puckett's Grocery
Creole Shrimp Boil and Open Mike Night.
It is amazing the talent you can find tucked away in Nashville's little nooks and crannies. Guitarist
Phil Brown
, who toured with the band Little Feat and has written songs for Cher and Pat Benatar, hopped on stage and did a number. Famous (or semi-famous) artists aside, even the guy who delivers the Mountain Dew rocked the house with a country fried version of Paula Abdul's "Straight Up." Amazing. We had a lot of fun.
I finished up the week with a seven hour (yes 7 hour)
Sandy Puc`
workflow seminar with
Jack Davis.
It was an incredibly informative event and well worth the long evening. I learned tons of Lightroom and Adobe Camera Raw tricks as well as a clear vision of how to run a successful studio (if that is something I would like to do in the future). I even joined the Nashville affiliate of
Professional Photgraphers of America
- even though I'm so not a professional. They offer lots of learning and networking opportunities, so I figured why not?
I'm in the middle of pimping out my deck so this weekend I planted some containers and did some touch up painting on my deck furniture and a new bakers rack I snagged for $50 at a local flea market. Pictures will come when the metamorphasis is complete.
Speaking of metamorphasis, I did have a hair appointment yesterday and got quite a bit taken off the bottom for a cool chin length bob. It seems the great grey grow-out of 2012 has somehow morphed into channeling my inner blonde bombshell. I'm practically platinum now. It's taking a while to get used to, but I think I'll like it. We are start using demi-permanent color next time to blend the gray further, leaving me the option to go all out silver fox if I choose down the road. We'll see.
I will post pictures at some point and I failed big time this month when it came to
Urban Muser's "In the Picture" self portrait challenge
. I'm not giving up, but I'll have to just call May a wash and start over again in June.
Last but not least, every week I am amazed by how far the bar is raised in the Flower Art Friday Linky Party. I look forward every week to see what you have in store. Voting is open until tonight at midnight, so if you haven't had a chance to vote for your fave
go on over and cast your vote
.
With that, I have a lot on my plate today and still more catching up to do on this "holiday" so I'll wrap up for now. Here's hoping all my American friends are enjoying their long holiday weekend!
Today's Linkups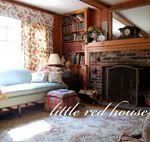 ---