I really like the idea of
Mosaic Monday
and using this space in the week to throw together a soup of images, insights and inspirations collected through the previous week to share with my peeps here in the blogosphere. I'm sorry to say that I didn't do a lot of shooting this week except for documenting my
Mother's Day Tea
, so for today's mosaic I thought I'd feature my granddog Crockett. It has been awhile since he's appeared here.
Here are a few cool things I wanted to share with you this week:
Linky Love
Now that I'm hostessing my own weekly blog hop,
Flower Art Friday
, I'm familiarizing myself with the
InLinkz
interface and capabilities. In spite of a little glitch last week that seemed to affect everyone, I'm pleased with this service and the subscription is less than $20 a year so there isn't a whole lot to lose.
This week I learned how get more for my Inlinkz subscription by setting up a gallery and I may actually include several of these througout my blog. Click
here
for a tutorial. To see how I put this into practice on my blog, check out my
Flower Art Friday
information page and scroll to the bottom.
Light My Fire
I am totally digging Danielle LaPorte's
The Fire Starter Sessions
I bought the audio version and I highly recommend going that route. She has a smooth, soothing and reassurigly sassy voice that makes you believe you can do anything. I was able to get through all seven hours last week while commuting and I started over again this week.
Canvas for A Cause
I'm researching various online resources for printing my work for the upcoming
Picturemorphun
show, and came across
this
offer from
Easy Canvas Prints
. In honor of Military Appreciation Month (which is May, by the way) they are donating 25% of sales to benefit several fallen hero organizations.
When I ordered my piece, they were running a special and I got a 16 x 20 canvas print for $69.05 (regular price $91.40) and got free shipping. They immediately sent me a coupon for 40% off my next order as well. I'm experimenting with different print on demand services so I will review them all when I've got a sampling of all. I have to print six different pieces for my shows, so I will review at least six of them. If you have any recommendations, please shoot me an email at
lthomas@photosbyleanne.net
.
A Day in the Life
Have you heard about the
aday.org
project? This is one of those worldwide campaigns encouraging people to take photos of a day in their life all on the same day. I just found out about it today, and tomorrow is THE day, but I plan to join in.
That about wraps it up for me. Here's wishing everyone a great week ahead.
Today's Linkups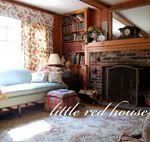 ---