A quick note to of thanks to all who participated in the
May 11th Flower Art Friday
Whether you participated or not, I'd like to invite you to go back and vote for your favorite. Voting ends tonight and the top three will be featured on next week's linkup post.
Rain thwarted my plans to host my Mother's Day tea outdoors on my deck, but made for a cozy and warm candlit gathering.
People ask me why I'm cooking my own Mother's Day meal, but I much prefer a quiet gathering at home rather than fighting the restaurant crowds. I love to cook and set a festive table, so I didn't mind the work. Besides, this provided me a great excuse to make a few trips to Home Goods and Hobby Lobby - a real win-win if you ask me. :)
The Setting
The place settings were a combination of old and new.
The white dishes are ones I purchased some time ago from Wal-Mart that frequently serve as a neutral base for my tablescapes.
The tea cups, creamer and sugar bowl belonged to my maternal grandmother and I snagged them at her estate auction.
The silver a gift from my mom who purchased sets of silver at various estate sales over time for each of her children and grandchildren.
The placemats and napkin rings are from Bed Bath & Beyond
Those sweet little glass dishes, dipping bowls, pink glasses, table runner, candle holders, cake plates, napkins, and teapot were purchases from Home Goods. O-M-G I love that place.
The chargers and picture frames were from Hobby Lobby
The flowers were from the Kroger floral shop and the container kept from a Mother's Day bouquet past.
The Guest List
My youngest son is moving his wife from Knoxville to their new Jacksonville, NC home this weekend, and my sister and her family were not able to come down so the guest list was small - my mom, my dad, and my oldest son Andrew. The four people around my table each have a different mother to remember and honor on this day, so I thought it would be nice to include a framed picture mom as placecards. When I showed it to Andrew, he said, "you know you are going to make people cry."
My mom, who I was specifically honoring today, has not only been a great mom to me, but a fantastic grandmother to my two boys. As a single mom, I am not sure where I would have been without the help of my family and especially my mom who provided a good bit of grandma daycare and grandma's taxi service when I had to work. I almost feel fraudulent calling myself a single mom because I had so much support. I was very blessed.
She immediately tried to remove her picture from the table because she doesn't like seeing herself photographed. I think she's beautiful so she can just get over it. :)
My grandmother, who we called Mama, loved Mother's day and her love for family was exceeded only by her family's love for her. How many times can one use the word love in a sentence? When it comes to talking about my MaMa, you can never use the word love enough. She was love incarnate and we miss her so much.
My son honored me so much today, by being there for me and helping me with my preparations. As much as I love entertaining, I always seem to be rushing right down the wire not only with cooking but cleaning. He swept up behind me and straighted up the house before mom and dad arrived, thus taking a load of stress off me. We've had lots of time to talk this weekend and I treasure our relationship.
My baby boy Adam called me from the road today to wish me a happy Mother's Day. Grandma and I both cried when he pointed out that the mother of his bride was sending her precious daughter off to begin her married life with her husband. I love them both so much, and wish them lots of sweet times and precious memories as they enjoy living together as man and wife. It's about time don't you think? After all, they've been married almost a year. :)
I won't lie and say raising these two monkeys was easy, but they were the lights and joy of my life. I'm proud to be their mother and grateful for the relationship we have today now that they are all grown up and stuff.
My father's mom died when I was very young, and I am more mindful of the significance of that loss now that my boys are near the age he was when he lost his mom. He was as moved as anyone by the framed picture of his mom at the table. I wish I'd known her.
The Menu
The menu for today's soiree` was health conscious due to the dietary restrictions of my guests and myself, but not over the top obsessive. I was aiming for
mostly
healthy with a few treats. I've hotlinked the recipes I found online if you are interested in giving any of them a try.
Tiger Shrimp Cocktail
Mixed Green Salad with Strawberries
I substituted almonds in the place of walnuts because mom is not a huge fan of walnuts. I liked it so well, that I can't imagine the walnuts would have made it better. The salad was my personal favorite of the meal. I did reduce the amount of olive oil in the recipe some, as it was recommended by many of those who reviewed the recipe.
Mini Mushroom & Sausage Quiches.
For this recipe, I used regular mild sausage instead of turkey sausage.
Cucumber Canapes
: This was really delicious, but I have two tips. First, the spread firmed up nicely in the fridge, but was a bit runny as it softened to room temperature. I think you could get by with half the mayonnaise and it would probably hold together better. Second, I will toast the bread next time. I also used roasted red peppers instead of pimentos - primarily because I could not find the pimentos at the grocery store.
Ham Pinwheels. This is just a simple recipe of softened cream cheese spread on a slice of ham and rolled around a dill pickle spear. Using toothpicks to secure the seam, I sliced between the toothpicks to create the pinwheels. It is a good idea to use a paper towel to blog the excess moisture from the ham and drain the pickles on a paper towel for a little while. So simple, and yet so addictive.
Low Carb Chocolate Pots de Creme
. I used regular unsweeteend bakers chocolate in this versus the dark chocolate and I'm glad I did. Personally, I like dark chocolate but this dish was verrrrrrry rich. I think the dark chocolate would have been too intense for my taste.
Chocolate Almond Macaroons.
This wasn't healthy in the least, but mom loves coconut so this was special for her. Again, I used regular chocolate morsels versus the dark.
For beverages, I served Earl Grey Tea, Coffee, and mint infused water with lemon. The latter was so refreshing. I have a lot of mint growing at my house, so I'll be making this lots more just to have around the house. The process is quite simple and you can find out how to do it
here
.
We enjoyed ourselves and had a good time. Someone did cry, but I won't say who
(dad)
. After everyone left I enjoyed a nice rainy afternoon nap and some great conversation with my son.
Happy Mother's day to all. Hope your day was lovely.
Today's Linkups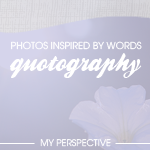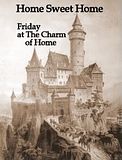 ---