Over at
Beyond Layers
there is a daily quote challenge going on. Each day this week, Kim presents us with a key word and we find a quote and image that corresponds to the theme. I'm already a little behind having missed the first day, but maybe I can circle back around later.
Today's word is peace, and this shot from last week's excursion to
Leiper's Fork
immediately came to mind. There was a small portion of this shot in my
Monthly Mosaic
post. I used Kim's "the veil" texture on this, with a little
Rad Labs
and
Topaz Labs
thrown in.
Here is the image, without the quote and texturizing.
This serene setting was located right outside what is known as "
The Barn
," which is a restored barn turned art gallery. It was closed when we were there, but it looks like a place to go visit soon. It has been awhile since I've linked up with Barn Charm, so I'm happy to have something to share there this week. :)
Today's Linkups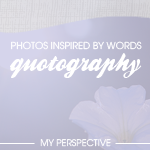 ---