There are quite a few sites and memes that I truly wish to participate in but I never seem to get around to for some reason. I'm planning to rectify that, starting now.
Bella at
52 Photos Project
has great prompts and linkups, and her theme this week is summertime colors and nothing says summer to me more than a bright red, white and green caprese salad with basil picked fresh from the garden. Well, my dad's garden, that is.
This salad was served as a part of the father's day meal I hosted on Sunday, and was included in my
Monday mosaic
. But, it deserves a closeup, don't you think?
I also wanted to share a few more shots of the tablescape to share for the tablescape memes I enjoy. I don't know how some people manage to put together such beautiful tablescapes week after week. There's so much inspiration there. But, I'm going to have to stick to being a special occasion kind of gal.
Funny story about this tablescape. Most of the dishes are already in my collection, but I just fell in love with these bowls at T.J. Maxx, so I bought them for this occasion. Somewhere I read that you need twelve of everything, so I bought twelve, even though I was just hosting six.
Did I happen to mention that I inherited a major dish fetish from my mother? Well, I got it in my brain that I needed some green stemware as well. I have some green glasses, but I've used them several times for tablescapes, and I wanted something new but vintage as well.
There's a cool antique shop called
Clairrene's Treasures
that I've started haunting, and I knew they would have what I needed. My son and I stopped in on the way to hang my art at Mozzarella Pizzeria, and sure enough they had a couple of possible options. One was a actually a bronzy brown that were beautiful and ornate but there were only six (remember the rule of 12). I thought the brown would work, but there were 12 of the much simpler green option.
I asked my son which he thought would work better, and he said, "Don't ask me, I'm not the one buying new glasses for a tablescape...I am the one who is going to have to call
Hoarders
."
I chose the green.
The hydrangeas are also from my father's garden.
Well, that's it for me today. Don't forget tomorrow morning my weekly Flower Art Gallery will be open for new submissions. This week's theme is roses if you have them. :)
Today's Linkups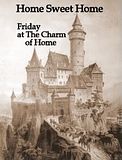 ---