Note for next week:
Since my birthday is next Thursday when our #9 gallery will open, I would love it if we could feature lots of roses in our gallery since it is the official flower of June. Themes are always optional, so if you don't have roses to share that's perfectly fine. But, I sure do hope to see a lovely garden of roses next week. :)
Welcome to Flower Art Friday #8 for June 15, 2012. We open the gallery early Thursday morning and stay open until Saturday evening right before midnight.
My piece this week was inspired by summer and the sunflower was captured on my recent retreat. As usual, there was a good bit of random
Topaz Labs
and
RadLabs
play going on, and I had some fun with brushes, patterns, and fonts as well. The base texture is called "Clarity" and is from R.H. West's new free texture collection.
Go get em
!
The top honor this week, with eight votes, goes once again to
Karen at Pieces of Contentment
who shared with us this rich and wonderful composition:
After that we had a FIVE WAY TIE with 3 votes each.
Lisa Gordon was pretty in pink this week with a beautiful image and some helpful information Be sure to check out her post
here
Donna at
Donna's Designs
showed of her perfect pink peonies and I am so wishing I had some of these growing in my garden!
Summertime is on
Anksu's
mind, too, as evidenced by these beautiful blue hues...
We got a bonus critter in the act with
MG Atwood's
rose macro
Finally, we have a look into my friend
Deborah's
garden with this lovely climbing clematis. Check out that beautiful bokeh!
Congratulations winners! Grab your badge!
Before we get this party started, here's just a quick reminder of the rules before we begin.
Flower Art Friday is a weekly gallery featuring your floral themed creations. We will have themes from time to time, but these will only be suggestions and you may feel free to deviate if you like. Obviously the theme revolves around flowers,and works submitted can be photos, digitally manipulated photos, textured photos, or mixed media collages.

Check out my resources page for information on some great sites that provide free textures, clip art, and tutorials.

The rules are pretty simple. Your link should go directly to your blog post or flickr post, and I ask that you post a link back to my blog in return. Post only your original work, and give credit appropriately to the source of images, clip art, or textures you may use in your piece. It would be awesome if you would grab my badge and include it in your post.





You also get to vote for your favorites. I will feature the top three picks on my blog next week, so if you participate please note that you are also giving me permission to repost your photo here. I will also be sending you a little email reminder to come back and vote and when the winners are posted.
Alrighty then, let's link up!
Today's Linkups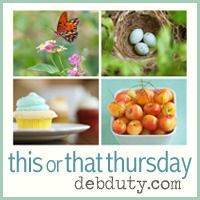 ---