For this week's
Mosaic Monday
, I'm featuring my weekend. Sometimes my weekends are a bit too busy for my taste, but this one was full of things that I loved. So full, in fact, that I took the day off today knowing that I would need some recovery time. We get our birthdays where I work, and even though my birthday is not until Thursday, I decided today was the best time to take it.
Speaking of my birthday, before I go on I want to mention this week's Flower Art Friday theme is roses in honor of the fact that the official flower of June the rose. Voting is still open for last week's gallery, so if you haven't voted yet, get on over
here
.
Ok, where was I? Oh yes, my weekend.
Of course, being Father's Day weekend, there were lots of preparations to make for dad's dinner. My sister and neice came up, which was really great. The tablescape you see in the mosaic and the food shots were from our celebration of dad.
Italian is my specialty, and summer is a great time for it with all the fresh veggies and herbs available. In the mosaic, you see a caprese salad made with basil from dad's garden. My favorite! I served another Italian tradition, proscuitto and melon, as an appetizer.
I gave up photographing the food to keep up with the serving of a traditional multi-course Italian "pranzo." You'll just have to picture in your mind linquine with a pesto-fredo sauce, rosemary garlic roasted chicken, and sauteed zuchhini with leeks. For desert we had a sugar free cheesecake
(recipe here)
, and fresh blackberries from dad's garden. Dad actually contributed quite a bit to the meal come to think of it, as the hydrangeas are also from their yard. :)
My dad, sis and I all have to watch our blood sugar, so it was a challenge to keep it Italian and low-carb, but thanks to
Dreamfields
and splenda, we can have our pasta and cheesecake, too!
This was a big weekend for me personally as I hung my first gallery of my work ever! As I've mentioned a few times, I'm participating in a
traveling community art gallery
that was the brainchild of one of my photographer group friends. Since I'm also acting as webmaster, a lot of work went into getting to this day. My pieces will be displayed at different locations through out the city for the next six months. The art is available for sale, although just being able to show my work is a big freakin' deal for me. Selling something would be gravy.
While I was hanging my art, a nice woman came up and talked to me for a while and was quite complimentary. She is interested in photography as well, so it was great to chat with her a bit about that. It was really nice to see someone's reaction to my work while I was standing there. My son Andrew was there helping me, which made it extra special. I think he was proud of his mom.
After the father's day meal on Sunday, I managed to get my Sunday afternoon nap in before Andrew and I headed out to see
Edwin McCain
at
3rd & Lindsley
.
3rd & Lindsley is my favorite venue to see live music in Nashville and Edwin is my favorite person to see there. I've lost count of how many times I've seen him perform. Andrew is a huge fan as well, and we've seen him together a few times.
Here's a great article about Edwin
which explains why I love this guy so much. He's a true artist and a truly decent human being. He's real.
The lady in the lower right corner of the mosaic was Edwin's opening act,
Sandra McCracken
.
Whew! That was some weekend. Now I need a nap. :)
Today's Linkups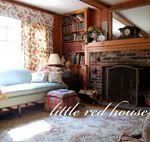 ---