I have a great deal of company in the house, especially in the morning when nobody calls. ~Henry David Thoreau
Linking up with Quotography
Black & White
Challenge.
Oh how difficult it was to leave the cozy comfort of my home this morning. I had an all too brief moment watching the much needed rain fall on my deck as I sat at my kitchen table and enjoyed one last cup of coffee.
Rainy days have been a rarity this summer and I would be happy with several more days of it - event through the weekend.
Over at the
Shutter Sisters
this month, we are sharing our "moments" and today's image depicts one of my favorite sort of moments - quiet contemplation with coffee and a view.
I used my Audible.com credit this month to download Susan Cain's "Quiet" - a book about what's great about introverts.
I highly recommend this book if you are an introvert or love one. I've had so many "that's me!" moments as I've listened.
This morning I reached the place in the book where she discusses the "sweet spot" where one's lifestyle achieves just the right balance between those quiet "low stimuli" moments and more outward "high stimuli" activities.
All of us need a mix of both, but the mix varies from person to person depending on their degree of introversion vs. extroversion.
I suspect that many of you who read my blog and are bloggers yourself (which I think most of my readers have their own blogs) are basically introverts. Susan Cain makes the point that introverts have taken to blogging and social media like ducks to water, which might be surprising to more extroverted types, but it makes perfect sense to those of us who tend towards introversion. It is a way to be social, connect and share, while still being in control of of the flow of stimuli you allow in.
Baby, I was born to blog. LOL
If you haven't stumbled upon Susan's blog yet, check her out
here
and click below to watch her TED talk:
While I may not have hit my sweet spot on a routine basis just yet, I am getting closer. This past weekend was about as close as I've come to it in recent years. The early parts of Saturday and Sunday were relaxed and puttering around the house, with plenty of time to take care of chores, read, blog, and take some photos. In the late afternoon on Saturday, I had an appointment with the reigning Hair Goddess of Nashville, aka Jules, and then drove out to meet a delightful couple who have hired me to design a website for the husband who is a very talented local artist. I'm quite excited about this project and there will be more to come on that later. Sunday evening, I had tickets to see two Aussie gals with guitars (
Butterfly Boucher
and
Missy Higgins
) play at
3rd & Lindsley
. Butterfly (yes that's her real name) acknowledges that her new self-titled album is basically a break-up album, and I admit several of the songs resonated in the space I'm in right now. Her song, Table for One, is a candidate for my One Little Word playlist. I may go with a BB song that's a bit more upbeat for the final cut, but for now you can listen to this one here:
A "table for one" is certainly not a possiblity at 3rd & Lindsley. The place is usually full and it was especially packed for this show. After my first foray into lone concert going, I've become a bit more comfortable with the whole thing - knowing that I will probably end up sitting with someone and having a good time.
So far, everyone has been really nice. This time when I entered the venue, two girls who came in at the same time as I did asked me if I was alone and invited me to sit with them. We crawled the whole place and couldn't find a seat for three of us anywhere. They were walking ahead of me when I spotted a woman and her daughter seated at a four top. I took a chance and asked if I could sit with them, and they said yes. I don't know what became of the two other girls, as they were too far ahead of me to call back by the time I negotiated the seat.
The woman and her daughter were very friendly and had driven up from Birmingham for the show as the daughter was a self-proclaimed HUGE Missy Higgins fan. It turned out that she also shared my interest in photography, so I gave them both my card and they may even read this. If so, I hope you two made it home safe in the rain!
Anyway..this has sure turned into a rambling post hasn't it?
So, I will leave you with a definite for my One Little Word playlist. In the beginning is a small interview with Missy about how she came to write the song. It is an uplifting song and a perfect fit with my little word.
Enjoy!
---
Today's Linkups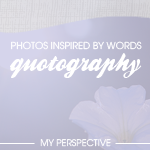 Have you thought about going to the cloud? I did!
Join by August 31 and get your first year of Creative Cloud membership for only $29.99/month. Valid for existing CS product owners.