Welcome to Flower Art Friday #13! The gallery opens early Thursday morning and entries are accepted until midnight each Saturday.
Today's image was inspired by a new Flickr Group I've joined that goes by the name of "
Digitalmania
"
From their group desgription...
Digitalmania is a challenge group the members of which participate and learn from challenges. These involve taking inspiration and learning from the work of artists in many styles and, from time to time, creating collages and art journal pages.
I joined the group because I've long been interested in interpreting photographically the works of great painters and other artists and this group does lots of that. I stumbled upon it while searching for photographs based on the work of
John Waterhouse
who is one that I've wanted to emulate with photos and digitial enhancements.
Each week the Digitalmania hosts a themed challenge and the one for this week is to create a piece of mail art. If you don't know what mail art is (and I didn't either), you can check google images for examples and/or go
here
where you'll find this basic definition and more:
Mail art is a worldwide cultural movement that began in the early 1960s and involves sending visual art (but also music, sound art, poetry, etc.) through the international postal system. Mail Art is also known as Postal Art or Correspondence Art. The term networking is often used to describe Mail Art activities, based on the principles of barter and equal one-to-one collaboration.
It is not unlike the
Kat's Liberate Your Art Postcard Swap
, in which I am also participating. Maybe some version of this will be my contribution. The deadline is looming so I better decide on something soon. :)
I'm not even sure I can remember what all went into this piece, but here goes:
French Kiss Textures
: Rosy French Script, Bohemian, and part of CP_rueVictorHugo.
Kim Klassen
: Elevate and Peony
The angel came was one of the weekly
Dover Publication
freebies, and the Rose of Sharon is a photograph that I captured on my morning walk in mid-June.
I pulled in a little stripe pattern and used
Topaz Labs
on the flower to create a painterly effect and also create sketches of the Rose of Sharon to sprinkle behind to add some interest. These little echos were barely perceptible once I finished, but they are there if you look close enough.
The light rectangle may look a bit out of place, but keep in mind that mail art is actually composed on an envelope so there needed to be a place to write the addresss. I think if I use this image for my post card swap, I'll stick a little hand written quote in there or something.
The hearts along the bottom were just basic photoshop shapes, duplicated and aligned - a little trick I learned over at
Beyond Layers
. I will admit; however, that I struggled lining them all up for a good while before I remembered Kim's tutorial. :)
Ok, now for the winners from last week's challenge:
Hans
is back with this colorful macro:
Don't you totally "heart"
Gunilla's
bleeding hearts? I do!
Last but not least,
Mona
was shared with us her "reflective" side with this beautiful piece.
Congratulations winners! Grab your badge!
Before we get this party started, here's just a quick reminder of the rules before we begin.
Flower Art Friday is a weekly gallery featuring your floral themed creations. We will have themes from time to time, but these will only be suggestions and you may feel free to deviate if you like. Obviously the theme revolves around flowers,and works submitted can be photos, digitally manipulated photos, textured photos, or mixed media collages.

Check out my resources page for information on some great sites that provide free textures, clip art, and tutorials.

The rules are pretty simple. Your link should go directly to your blog post or flickr post, and I ask that you post a link back to my blog in return. Post only your original work, and give credit appropriately to the source of images, clip art, or textures you may use in your piece. It would be awesome if you would grab my badge and include it in your post.





You also get to vote for your favorites. I will feature the top three picks on my blog next week, so if you participate please note that you are also giving me permission to repost your photo here. I will also be sending you a little email reminder to come back and vote and when the winners are posted.
Ok, let's link up!
Today's Linkups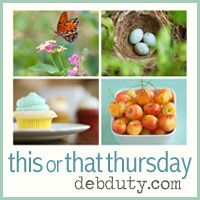 ---
---
Join by August 31 and get your first year of Creative Cloud membership for only $29.99/month. Valid for existing CS product owners.