mouse over the image to see the before
Flower Art Friday is Sweet 16 today! The gallery opens early Thursday morning and entries are accepted until midnight each Saturday.
This week Flower Art Friday has gone to the dogs with this image captured during my
impromptu doggie shoot
. This guy's name is Ringo and I had fun playing with giving his picture some painterly effects.
I used three different textures on this image:
Kim Klassen's
"I Am" and two from
R.H. West
- True Grit and Chapel. I also layered in several adjustments using
Topaz Labs Simplify
(Water Color, Oil and Buzz Sim). As usual, I just played and played, flattened, added an effect, flattened again. So, I can't really tell you what I did.
Oh, and I did add a cloud filter as well as a layer of paint brush strokes in there as well! :)
Please accept my apologies for not getting around to visiting all the blogs and commenting on the lovely images from last week. I also only got around to about half the week before. Up until now, I've managed to keep up with my thank you notes, but everything sort of went to pot the last few weeks with a decline in my health corresponding to an increase in projects and workload. Wonder if there is a correlation? Something to think about.
So now let's move on to this week's winners.
Hans
ran away with the competition with this gorgeous hibiscus:
Then we have this exquisite water lilly from
Maboe
Barb at Keeping up With the Times did a wonderful job processing her lovely prarie coneflowers don't you think? I could see this one framed and hanging on a wall.
Before we get this party started, here's just a quick reminder of the rules before we begin.
Flower Art Friday is a weekly gallery featuring your floral themed creations. We will have themes from time to time, but these will only be suggestions and you may feel free to deviate if you like. Obviously the theme revolves around flowers,and works submitted can be photos, digitally manipulated photos, textured photos, or mixed media collages.

Check out my resources page for information on some great sites that provide free textures, clip art, and tutorials.

The rules are pretty simple. Your link should go directly to your blog post or flickr post, and I ask that you post a link back to my blog in return. Post only your original work, and give credit appropriately to the source of images, clip art, or textures you may use in your piece. It would be awesome if you would grab my badge and include it in your post.





You also get to vote for your favorites. I will feature the top three picks on my blog next week, so if you participate please note that you are also giving me permission to repost your photo here. I will also be sending you a little email reminder to come back and vote and when the winners are posted.
Ok, let's link up!
Today's Linkups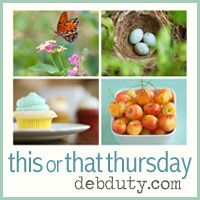 Join by August 31 and get your first year of Creative Cloud membership for only $29.99/month. Valid for existing CS product owners.